Kota Kinabalu City Tour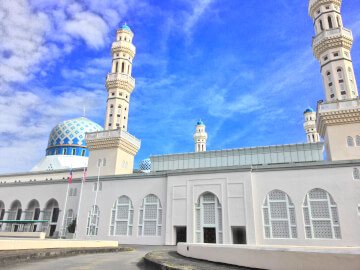 Information
Location:

Kota Kinabalu

Duration:

Half Day

Min. Pax:

2 Adult
Kota Kinabalu City Tour
Half Day Product MYR 100.00
Book Now
General Information
Start at 8.30 am.

Pick up from hotel and begin exploring the city of Kota Kinabalu, Sabah's capital city. Starting with a pleasant morning drive around Kota Kinabalu, the tour first takes you to enjoy some of the most scenic parts of the city.

Some of the city's more interesting attractions and landmarks, such as the Wisma Tun Mustapha (otherwise known as Sabah Foundation Building or Yayasan Sabah). It is a 30 storey architectural wonder as there are only 4 of these hanging structures in the world with its column free floors and high tensile steel rods supporting this circular structure.

Kota Kinabalu City Mosque or affectionately known as the Floating Mosque, is one of the most outstanding pieces of architecture in Sabah. Built on a 2.47 acres site at the Likas bay, the Kota Kinabalu City Mosque is the epitome of the Islamic modern-day architecture. Situated near the sea, it can accommodate from 9,000 to 12,000 people at a time.

Visit the Poh Toh Tze Buddhist temple which was built in 1980 where the temple stands out with its traditional Chinese roofing and structure. Ten large statues of deities enhances the splendor of the temple with the Goddess of Mercy, Kwan Yin, standing tall at the main entrance of the temple.
One of the few places that you should not miss to visit is the chocoholic's paradise named "Cocoa Boutique" in Tanjung Aru. This is a famous chocolate factory located just near the traffic signal point in Tanjung Aru. The boutique holds the name in melting the hearts of millions of chocolate lovers worldwide with more than 300 varieties of chocolate products.
Highlight
Private Tour
Save time & hassle free
Included
Transfer as stated in itinerary
Day 1
Pick up from hotel and begin exploring the city of Kota Kinabalu, Sabah's capital city. (Wisma Tun Mustapha, Floating Mosque, Poh Toh Tze, Cocoa Boutique Chocolate Factory)
Requirement for the trip: Own drinking bottle and first aid kit.
You may request for afternoon tour commencing at 1 pm.
Itinerary is for reference only, and is subject to any necessary changes.
Child rate applies for children between 3 - 11 years old, Infant below 3 years old is FOC.
Rates are subject to change without prior notice at the discretion of the government. ( If Any )
Price & Information valid till 2024/3/31 (tour commencement date).